Earlier this week, I had the opportunity to visit a new-to-me attraction here in Orlando – Discovery Cove. I was blown away. From 7am to 5pm, my girlfriend and I had an amazing day. It's true that the price tag is a little higher than a single day ticket to the more well-known Orlando parks and resorts, but it is 100% worth it. The day was packed with experiences I'd never had before, that made me ridiculously happy all day long. If you have an extra day in your Orlando vacation itinerary (and a lot of extra cash in your budget), I cannot recommend Discovery Cove highly enough.
We booked our day at Discovery Cove a couple months earlier. The price tag varies throughout the year. A quick look at their calendar shows it could be anywhere from about $200 to $300 per person. Not surprisingly, the busier periods (Christmas, Spring Break, Summer) are more expensive. Discounts are sometimes available for Florida Residents, Sea World Annual Passholders, and employees of either Discovery Cove itself or Sea World. In addition to the all-day experience at Discovery Cove, which I'll describe below, your ticket includes 14 consecutive days of entrance to Sea World and Aquatica (for $22 more, you can upgrade to include Busch Gardens as well).
Our day began a little before 7am. Checkin was to begin at 7:30, but of course, I'm incapable of not being early, so we were the first ones in the parking lot, and the doors had not yet opened. When the doors did open, we began the checkin process. The first thing the Team Member said was that because the weather wasn't looking great, they were offering us the ability to reschedule our visit for any other day. As I have no vacation days left this year, we decided to risk the weather (and by the end of the day, we were glad we did – other than a few light sprinkles, the weather was perfectly fine all day). The Team Member took each of our pictures and gave us a badge to wear around our necks all day. In addition to our name, the badge contained our Dolphin Encounter time and group number, as well as an indication that we're each over 21 (so we're entitled to the unlimited alcoholic beverages that are also included in admission).
They also gave us a map that could be hooked to our lanyard, so we can figure out how to get around all day.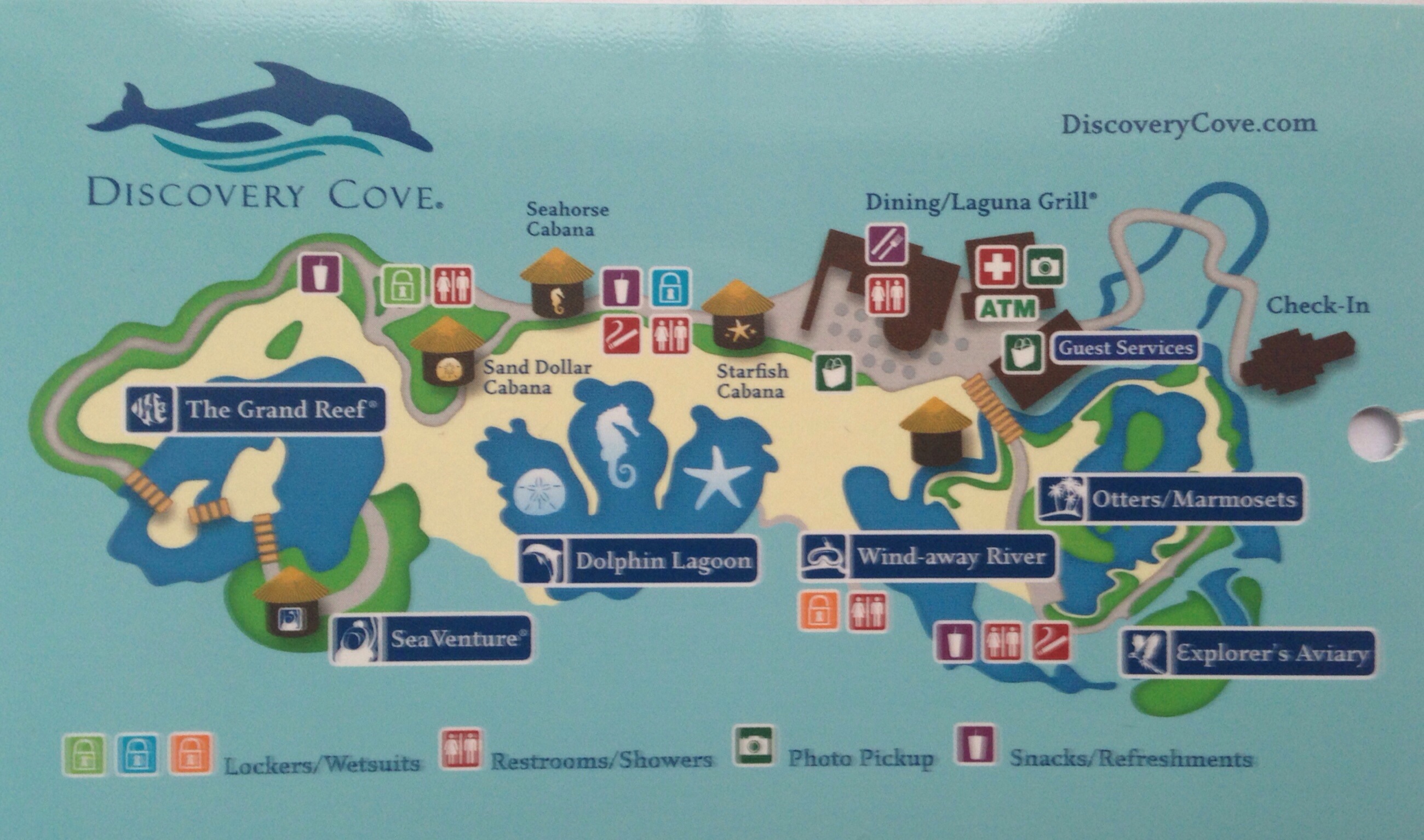 After checkin, we hung out by an overlook over the Wind-Away River until the park opened for us. Our Dolphin encounter time was 8:35AM, and we had nearly an hour before then when the park opened, so we decided to start with breakfast before going anywhere else. All of the food and beverage all day long was also included in admission. For breakfast, they gave us platters of scrambled eggs, ham, sausage, potatoes. There were also french toast sticks, waffles, fruit/yogurt parfaits, and fruit cups. All of it was take what you want, no charge for anything.
After breakfast, a very helpful Team Member (ALL the Team Members we encountered were friendly, polite, and helpful. Honestly, it reminded me of a cruise environment) directed us to the lockers. Locker rental for the day was also included. Another TM there assigned us to a locker that was more than big enough for all of both of our belongings. We then went and changed into our swimsuits (the only thing we actually had to bring with us, by the way), and were given the option of wearing either a neoprene vest or a shorty wetsuit (ie, short sleeves, and goes down to the knees, rather than to the wrists and ankles). One or the other must be worn in all water attractions in the park.
Next we walked over to our assigned "pod" for the Dolphin Encounter. There are packages available without the Dolphin Encounter, by the way, for anywhere from $60-$90 less than the full package. We filled out the standard releases and then watched an introductory video about the dolphins. When the video was over, one of the trainers talked to us for a little bit about the dolphins they have there at Discovery Cove, and opened it up for questions. When it was fairly obvious we were all itching to get down to the dolphins, they broke us into 4 groups. Our group had, I believe, 9 people total, 3 parties of two and 1 party of three. We were walked down to the beach and waist deep into the water. It was cold, but again, we were wearing the wetsuits or vests, so it really wasn't that bad.
A trainer called over our Dolphin for the encounter, Coral. Coral, we learned, was the first dolphin born there at Discovery Cove. To our left and right, the other 3 groups were all with their own trainer and their own dolphin. At one point, another dolphin, who wasn't "on" at the time, came over to us to join in on the fun. Our trainer said she was just having some fun and visiting the rest of us. I found it interesting that all of the trainers recognize all the dolphins by name just by looking at them. The trainer had Coral do some tricks, like making certain sounds out of her blow hole, turning over onto her back, "waving" at us with her flipper, etc. We all got a chance to feed her, by throwing a fish into her mouth. We also all got a chance to pet her back as she swam by us in a line.
The trainer then taught us a hand signal to show to Coral, that would have her put her head in our hands, so we could give her a kiss. One by one, we walked out a little ways from the group, and made the hand motion to her. Due to a problem with the photographer's camera, I actually got to do this twice. While the camera was being replaced or fixed, the trainer had Coral swim out and do a couple jumps, which was just awesome. When the camera was ready, I went back out and did the hand signal for kiss again. Coral put her head in my hand while I leaned down to kiss her just below her mouth.
Then I stepped to her side and posed for the photographer.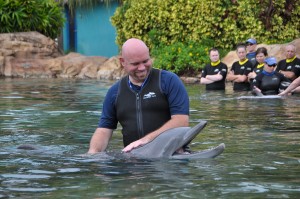 Finally came by far the best part of the encounter – the dolphin swim. There were two options. We could either wade over to a different area in the shallow water, or swim out to the deeper (8 feet) and tread water until Coral was ready for us. At first I was somewhat apprehensive about treading water for a while, but then I realized that 1) it was salt water, and 2) I was wearing a neopreme vest. That meant I had a lot more buoyancy than normal, so heading out to the deep was no problem. Indeed, it was actually somewhat difficult to go under water. So Iris and I both swam out to another trainer, maybe 15 yards from shore. The trainer called Coral over to us, and Iris went first. She took hold of Coral's dorsal fin with one hand, and her flipper with the other, and Coral pulled her back to shore. Then it was my turn. When Coral came back, I assumed the same position, and Coral took off. I was surprised by how fast she went – it was actually a bit difficult to hang on, but man what an amazing experience!
Before the encounter ended, each group was able to get a group picture with Coral. Iris and I stepped a few steps out toward her, and we got this amazing picture:
We thanked the trainer profusely, and said goodbye to Coral. She said goodbye by splashing us all with her tail. 🙂 The photographer walked us into a hut where we could view all our photos. There were several packages to choose from, including prints, posters, key chains, a digital CD, and a DVD of the dolphin swim. I wanted these photos, because even though I live here in Orlando and could theoretically do it whenever I want, this felt like a once-in-a-lifetime experience. So even though it was expensive (over $100) I decided on the digital CD. Fortunately the cost was cut down a bit by the fact that any other photos we had taken throughout the day could be added to the CD for no additional cost.
After the Dolphin encounter, the rest of the day was unscheduled – we could do whatever we wanted whenever we wanted. We decided to go over to the Aviary, as a Team Member told us that the birds are more likely to be active and feeding early in the morning. The aviary is split into three rooms, each with over a hundred birds, of many different species. There were tiny birds that'd fit in the palm of my hand, and great big ones that came up to my mid-thigh when standing. In each room, a Team Member has a little cup of bird food available for you. You hold the cup in your hand, and raise your arm toward any birds that you see, and if they're hungry, they hop over to you to eat. At first no one seemed interested, but within a few minutes, we definitely got some new fans.
As we walked through the rooms, we saw different birds, and there was a photographer in each. The Team Members were also hand feeding some birds who had other dietary needs (or preferences) beyond the grain-based food we were feeding them. As the birds got comfortable with us, they had no problem just landing on us as though we were statues, even without food in the immediate vicinity of where they landed. For example, while I was feeding one with my right hand, another bird hopped onto my left shoulder for no discernible reason.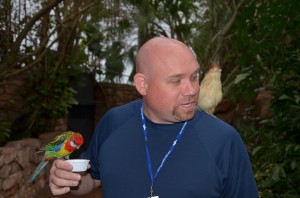 Before we leaving, Iris and I made sure we got a couple pictures together, along with our new feathered friends.
Next we picked up our mask and snorkel (I brought my own, but they are available for guests to use for free, and the snorkel is even yours to keep) and headed into the Grand Reef. I cannot even describe how amazing this is. I used to LOVE Typhoon Lagoon's Shark Reef. To even compare the two is absurd. Shark Reef is about a 45 second experience, swimming straight through on the surface, looking at some fish below you. In the Grand Reef, you could easily spend HOURS. You are not swimming above the fish, you are swimming WITH them. And there are thousands of them. You can dive below the surface (though you have to be wearing the wetsuit or vest, so your added buoyancy won't let you stay down long) to get an even closer look. The number of animals in their reef has to be seen to be believed.
Just when we were getting into the water, we saw that the Team Members were about to begin feeding some of the Rays. There are two kinds of Rays in their reef: giant Southern Stingrays and medium sized Cownose Rays. They are swimming throughout the lagoon, but they definitely know when it's time to eat. I was able to get some video of a few of them during their feeding:
Elsewhere in the reef, I took another video of just insane amounts of fish. Toward the end of this one, I tried to dive down into a… a "valley", I guess you could call it. The valleys run in mostly straight lines in a few different parts of the reef. Again, because it's salt water and you're wearing neoprene, you're really in no danger of sinking – on the contrary, it's difficult to get down. As you'll see in the video, I wasn't down for more than a second or two before I rose right back to the surface.
We eventually looped around and found the tank where the sharks reside. As an aside, Iris and I defaulted to using our SCUBA-learned hand signals for simple communication rather than taking the snorkels out of our mouth. At one point, I gave her the signs for "Where are the sharks?". She didn't know, but a nearby Team Member lifeguard answered me immediately and pointed the way. I was amused and pleased that he recognized SCUBA signs as well. 🙂 The sharks are, unfortunately, in a separate tank, so we're separated from them by glass, but it's still pretty darn cool to see. Some of the sharks were just resting on the bottom of the reef, but others were swimming around.
After the reef, we went into the Wind-away River. This is Discovery Cove's version of a lazy river, but there's nearly no current. It has both shallow and deep sections, and it's fresh water rather than salt, so they have a bunch of pool noodles near the beginning that you can take with you for extra buoyancy. Of course, you can also take your mask and snorkel into the River as well. A full loop takes maybe 25 minutes, depending how fast you walk & swim. Near the middle of the river, you actually enter into the Aviary (there is a pair of waterfalls at the entrance and exit that you swim through, to prevent the birds from leaving). At a few different points, you can actually exit the River and get out directly into the Aviary (or vice-versa, enter the River from walking through the Aviary). It's a very nice relaxing experience, and the water is VERY warm. To me, it felt like bathwater. Quite a large difference after being in the cold water Grand Reef for so long.
Time to give our fingers time to de-wrinkle for a little bit, we went and got lunch. Lots of different options, including cheeseburgers, pulled pork, hot dogs, chicken strips, teriyaki chicken, pasta & meatballs, mac & cheese, fish, rice, vegetables, salads, shrimp, antipasto sandwiches, fruit, and various desserts. As with breakfast, it was all-you-can-eat, help yourself to whatever you want. The food wasn't gourmet by any means, but it was certainly on par with or slightly better than counter service restaurants at Walt Disney World.
When we were done with lunch, we decided to ask about SeaVenture. This is an add-on experience not included with the all-day package we'd booked (though you can prebook a package that includes it). It's an underwater walking tour. No SCUBA experience required. They have a big white helmet that they put on your head. It serves the dual purpose of providing your air supply and weighing you down so you can walk without floating back to the surface. In this picture, that I took from the Grand Reef, you can see some other guests taking the tour:
We went to Guest Services to purchase the tour, and had to hurry up over to SeaVenture as we were less than 5 minutes from when we were supposed to be there to check in. For this one, you have to be wearing a wetsuit, not just the vest, so I had to change quickly and then we booked it over to the checkin area. When we arrived, we filled out another release and then watched a video explaining the helmet system and some hand signals we should know. They were the same basic hand signals that we use in SCUBA, so nothing new for us there. We were told we could bring our cameras in with us, but I didn't realize that'd be a possibility, so mine was still in the locker. Oh well…
So now we get to go in the water. We descend via a ladder. The helmet weighs 75 pounds, so they don't put it on until you're just about under the water. As soon as they put it on you, you descend the final rung into the water. The helmet creates an air pocket around your head, and you simply breathe normally. The helmet is connected to an air machine via a blue hose, continuously supplying you with fresh air, while the air you exhale simply leaves the helmet as bubbles that rise to the surface.
One of the guides had an under water writing tablet, that for all intents and purposes was a small Magna Doodle. While we were waiting for the rest of the guests to descend (there were only four of us total), the guide and I had a conversation about where we each go SCUBA diving, using his tablet. Once we were all down, the guide used a pre-printed flipbook of messages to tells us about what we'd be doing. The first thing we saw was "Hagrid", a giant hogfish that they've actually trained to respond to simple gestures, like "come here", present his fins, etc. Hagrid was more or less always with us, just kinda following us along, like nothing so much as an underwater puppy dog.
Our next stop was to the shark tank. Like in the reef, we're still behind glass, but this was definitely a more interesting view of them. The guides had a sheet that described and identified the different sharks they have. Some of them were very active, some were sleeping. We then walked along (holding a hand rail to help us along) to another glassed off area where the lobsters reside. Florida lobsters, of course, so no claws. Most of them were just milling about on the floor, but 2 or 3 were hanging on to the wall. Very cool to be that up close and personal with them.
We walked along another corridor for just a bit, and then stopped for a moment while two of the guides brought out two special guests. They had a baby horseshoe crab, and a slipper lobster. We each got to hold both of them. I had never even heard of a slipper lobster before. It basically looks like a lobster tail only, without the head or body. Very very odd, but very cool to hold. Before moving on, our lead guide demonstrated some pretty cool skills. You know how smokers sometimes blow "smoke rings"? This guide somehow figured out how to blow air rings under water. First he did it straight up, and we saw the air rings expand gradually as they rose. That was cool enough, but then he blew my mind by "throwing" an air ring at each of us. I haven't any idea how did it. He put his hands to his mouth, moved his hands quickly toward us, and somehow there was a perfectly circular ring of air headed straight for us. Really cool, and I wish I had it on video.
And then the guides walked us over to what they called "the grand finale". We all bunched up together as fish were swimming all around us. And then the guide came by with a canister of fish food. He opened the canister just a little bit and let some of the food out. And then OH MY GOODNESS FISH EVERYWHERE. Fish just SWARMED us. We couldn't see the guides any longer for all the fish between us and them. The guide opened the canister to let out some more food another 3 or 4 times, to keep all the fish active and basically going nuts. If you can picture a cloud made entirely of fish, that's pretty close to what it was, immediately in front of us. I actually started laughing out loud (which was possible in the helmets) at the utter insane awesomeness of the spectacle.
We walked back to the ladder and started ascending. As soon as our mouths were above the surface, the helmet was lifted off our head. We were given towels to dry off (really weird when I realized my head and face were already dry…). The whole experience was a little shorter than I would have liked, it felt like it flew by. But even so, it was outstanding, and well worth the ~$60 upcharge.
After SeaVenture, we went into the Fresh Water Oasis, where we swam past an island with a bunch of Marmoset monkeys, and an enclosed area with playful otters. The otter area has a feeding tube where guests are allowed to put a piece of shrimp into the tube that goes into their enclosure, where the otters can grab it on the other side. Very very nice.
It was somewhere around 3:30 or so. We spent some more time in the Grand Reef swimming with the fish and the rays, and then one more trip around the (much warmer) Windaway River. And then, sadly, it was time to leave. We changed out of our wetsuits and returned them, showered (soap, shampoo, and conditioner also all provided), changed into our dry clothes, and returned the towels and Iris's mask, and left the locker key inside the locker. Before leaving, we stopped by the photo area to pick up our photo CD as well as our entrance photo, which was a complimentary souvenir: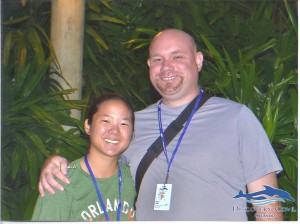 Overall, it was an absolutely incredible day. On maybe an annual or bi-annual basis, I think the cost of Discovery Cove is 100% justified. If you can get a discount (SW Passholder, FL resident, or Team Member), and can go at less popular times of the year, it's probably worth it even more often than that. I am thrilled that I had this opportunity, and loved absolutely every second of the experience. If you're waffling about whether or not you want to do this, take my word for it – the answer is "Yes", you absolutely do!!