This post is now more than 1½ years old. The information was all accurate and correct at the time, however Disney has made lots of changes since then. I strongly suggest you do not rely on this post for any accurate or up-to-date information. Most of the screen shots and processes will NOT correspond to what you'll see when you attempt to book FastPass+ now.
I've been updating this post since it was originally posted back on July 31, 2013. I'll attempt to break it out by update here:
Selecting MagicBands and FastPass+ Reservations
Using MB & FP+ in the parks
Ride closures, FP+ without MB, MyMagic+ terminals, FP+ reservation windows
Using FP+ after your window has elapsed
Attraction Tiers
Selecting MagicBands and FastPass+ Reservations

Disney has moved into a new phase of testing MyMagic+ and FastPass+ in which hotel guests who have room-only reservations at Pop Century and Yacht Club are also being selected for the test – previously, I believe, it was only guests staying on a Room+Ticket package. For the heck of it, I went ahead and booked a one night stay at Pop, just to see what would happen. Within 30 seconds after booking, I found that clicking the "FastPass+" option under My Disney Experience on WDW's website now gave me the option to actually make FP+ reservations. Before this, it went only to an information page saying that FP+ would be coming later this year.
I went through the process of selecting FP+ reservations, and took many screenshots along the way. I'd like to share them with you here, so that you can see what might be coming if and when you are eligible to book FP+ as well.
After selecting "FastPass+" from the My Disney Experience menu, you are given a list of days for which to make plans. The first day available for me to make reservations was August 10th, the day of my Pop Century reservation checkin.


Interesting to note right off the bat is that I was not restricted to only the two days of my Pop Century reservation. I was able to scroll forward to several days in the future. Indeed, I saw later that I can click the little calendar icon and choose any day from August 10 through September 30.

I don't know if this is because I'm an annual passholder, and therefore once I'm eligible for the test, I'm eligible for every day. Or perhaps that really is the intention, that all guests can use it from any day starting on the first day of their checkin, regardless of when they checkout.
In any event, after choosing the date, you are shown your family and friends from My Disney Experience, and you choose which people you want to make these FP+ reservations for. In my case, I'm the only one in my list who's eligible, probably because I'm the only one who's actually booked for that Pop Century stay.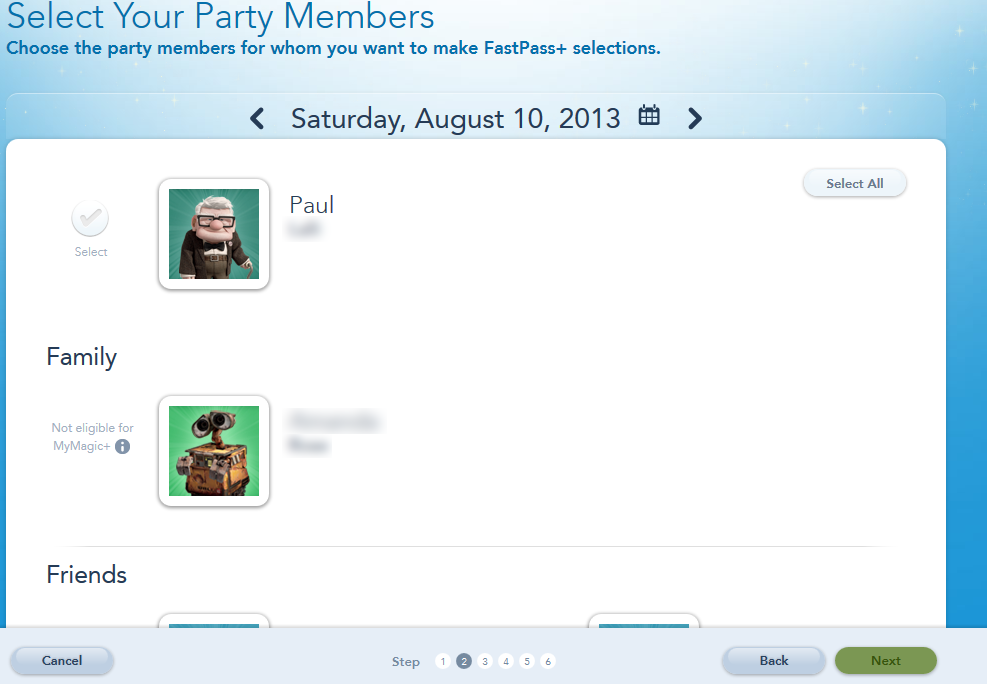 And then you choose at which park you want to make FP+ reservations for this day. Remember, you can only choose one park per day. If you have a park hopping ticket, keep in mind you'll only be able to use FP+ at one of the parks you visit. This could make planning very interesting for those who decide to hop. I chose the Magic Kingdom.

Now we get to choose our three FP+ attractions. I was shown a list of every FP+ enabled attraction in the Magic Kingdom, and told to choose up to three of them. It says "Select up to three from this group", but there was only the one group listed, and that group had all the MK attractions. I don't know what this says about the future. They clearly still have the functionality to separate attractions into multiple groups, and limit the number of attractions selected from each group. But at least for this test, they're not using it(see update).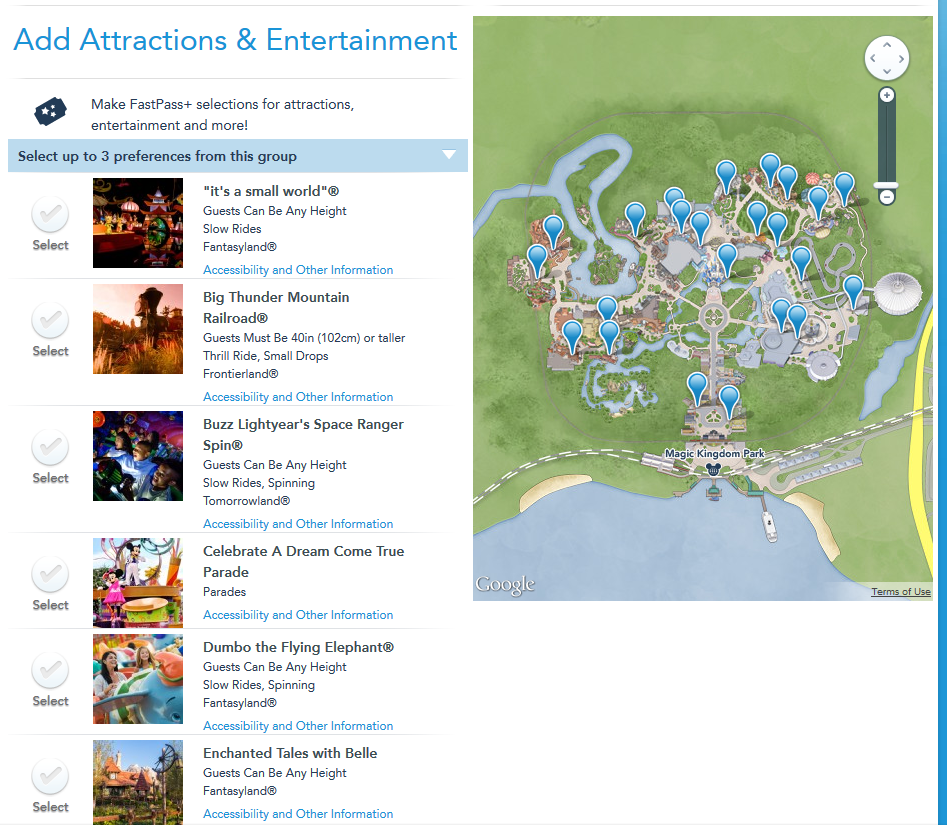 The full list of MK attractions available for this test were: it's a small world, Big Thunder Mountain, Buzz Lightyear, Celebrate parade, Dumbo, Enchanted Tales with Belle, Haunted Mansion, Jungle Cruise, Mad Tea Party, Main Street Electrical Parade, Ariel's Grotto, Meet Mickey, Meet Princesses, Mickey's Philharmagic, Laugh Floor, Peter Pan, Pirates of the Caribbean, Space Mountain, Splash Mountain, Barnstormer, Magic Carpets of Aladdin, Winnie the Pooh, Tomorrowland Speedway, Under the Sea, and Wishes.
I chose the three mountains. I was then given four different options for reservation times, A through D. For reasons that are not yet clear to me, it has selected one of these options as "Best Match!". Also of note is that in addition to my three selections, it also included a fourth "bonus" FP+, for Pirates of the Caribbean. Here is the first option, followed by the remaining three that appear when you click each tab:


There doesn't seem to be any particular rhyme or reason to the times they gave me. In each set, there are no overlapping return windows, but some of them are directly back to back (for example, in Option B, it has BTMRR from 2:35-3:35, and Splash from 3:35-4:35).
I chose one of the options that I felt worked best for me, and was then presented with a confirmation showing what I've chosen
You'll notice that each attraction has a "Make Changes" button next to it. I wasn't particularly interested in PotC for this test, so I decided to change that "bonus", by clicking Make Changes. I was then able to choose a different attraction to replace it. I chose Buzz, and was shown a confirmation for what I'd chosen:
With my MK reservations all set, I then moved on to the next day, and chose Epcot. Again, there's a list of all FP+ enabled attractions in the park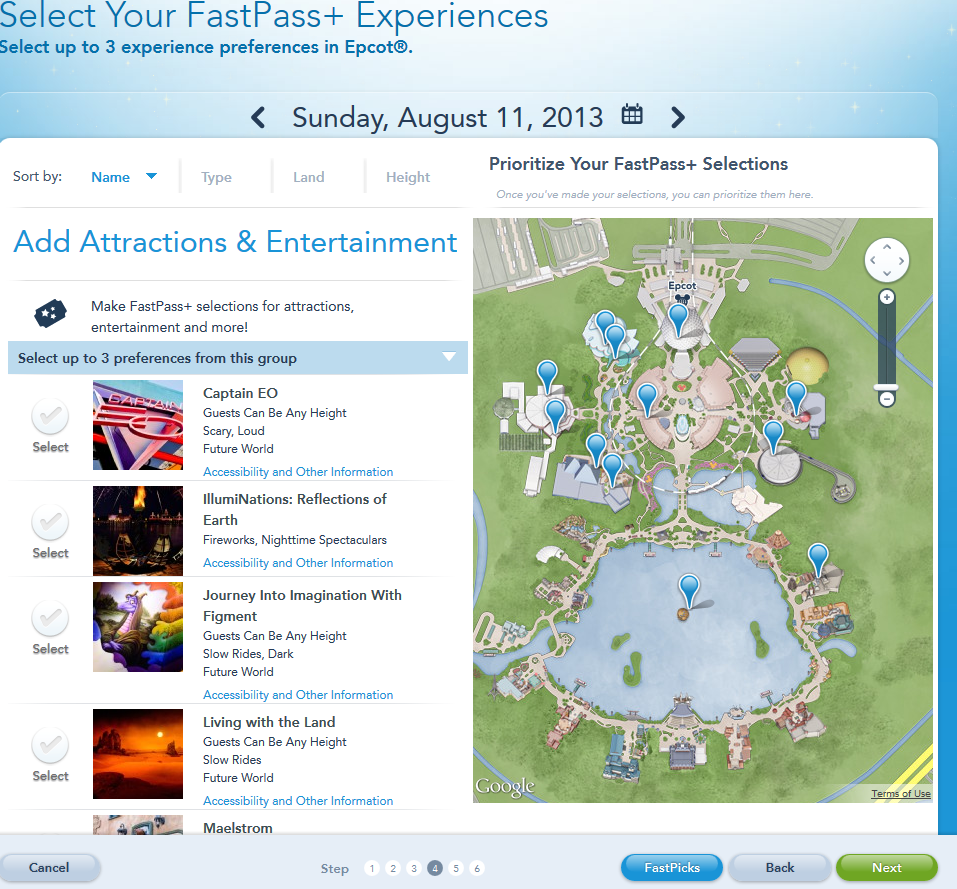 The full list for this park was: Captain EO, Illuminations, Imagination, Living with the Land, Maelstrom, Character Spot, Mission: Space, Soarin', Spaceship Earth, Test Track, Seas with Nemo, and Turtle Talk with Crush
I chose Test Track, Soarin', and reserved viewing for IllumiNations. As before, I was given four options for time slots. In this case, however, I was told that not all of my attractions were available in all options.


As you can see, in both options A and B, it replaced IllumiNations with Mission: Space. I have no idea why that would be – how can the reserved viewing area be full only depending on what time I do Test Track and Soarin'? Seems very very odd to me. In any event, I chose Option C (which it had selected as "Best Match"), and was shown the confirmation:
For the heck of it, I decided to try to change the time of the Test Track reservation to a little earlier in the day. I clicked the Make Changes button next to it. This can also be done by clicking "Manage FastPass+" at the top of the screen. If you do that, you're given a choice of completely choosing a new set of FP+'s, changing an individual one, copying them from you to another person in your party, or cancelling them all: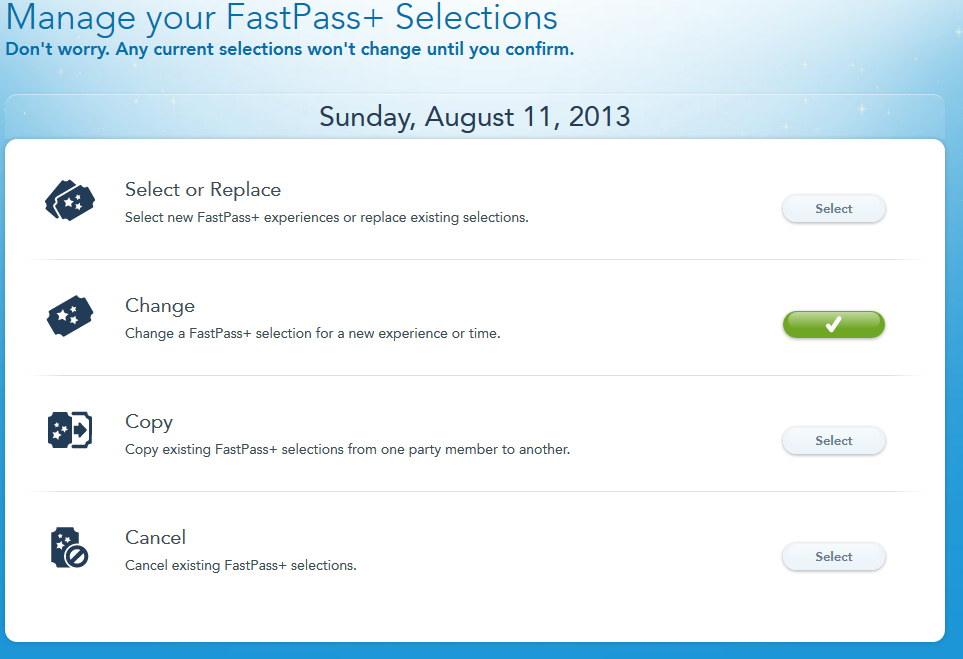 After clicking the Make Changes button, I was asked whether I wanted to change the attraction itself to a different attraction, or to simply change the time of the existing reservation.

It then showed me my current selections, along with a list of all available times to change Test Track to. It didn't list any windows that would have conflicted with my other existing FP+ reservations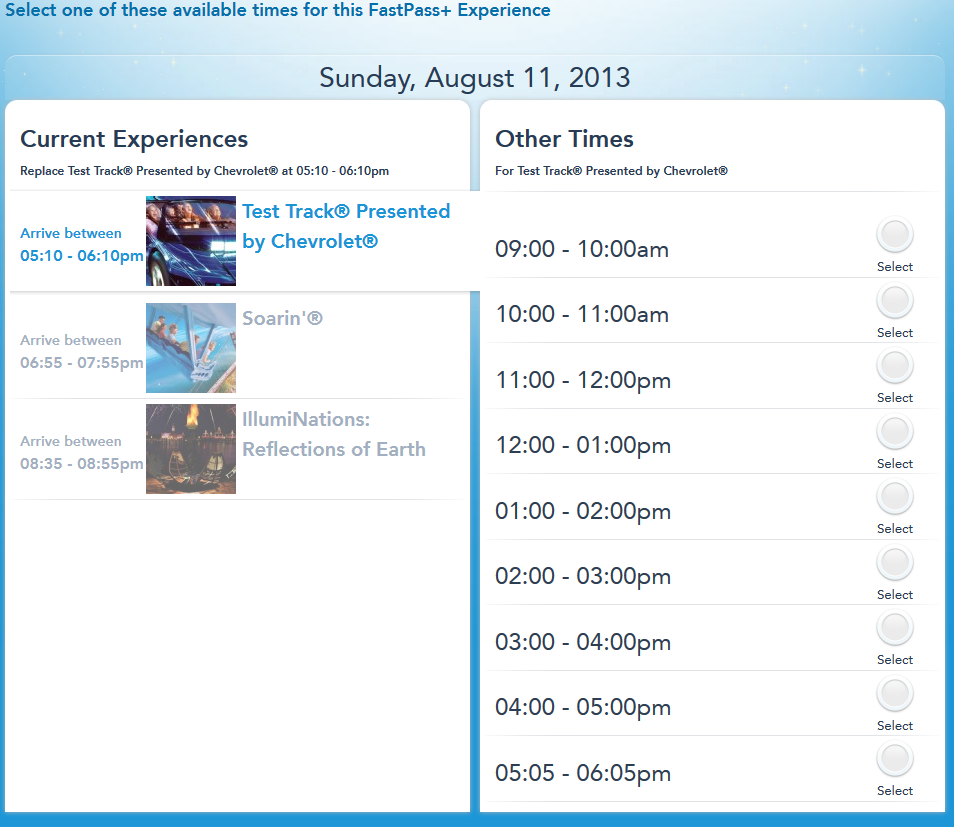 After selecting the new time, I was shown a summary of all my plans for my Epcot day on August 11

Epcot now complete, I tried to make a reservation for the next day. Remember, by this time, I'll be long checked out of Pop Century. Nonetheless, I had no problems making FP+ reservations for DHS on this day. The process was effectively the same as MK and Epcot. First is the list of all attractions to choose from:


The full list is Beauty and the Beast, Disney Jr, Indiana Jones Stunt Show, Lights Motors Action, Muppets (however, it will be closed for refurb at this time, and was not available to be selected), Rock 'N Roller Coaster, Star Tours, American Idol, Great Movie Ride, Tower of Terror, Toy Story, and Voyage of the Little Mermaid. [Note: I found later that Fantasmic is an option on some days, such as 8/23, but not this particular day. No idea why.] I chose Tower, RnRC, and Toy Story.
As before, I was given four sets of time periods for my selections:


Now, for the heck of it, I tried a date significantly further in the future, up to August 31, to choose Animal Kingdom reservations. Again, I'm surprised that it allowed me to do so, but there it is

The attractions for AK are shown. The full list is Dinosaur, Everest, Festival of the Lion King, Finding Nemo, Tough to be a Bug, Kali River Rapids, the Safari, the Adventurers Outpost (also closed for refurb), and Primeval Whirl.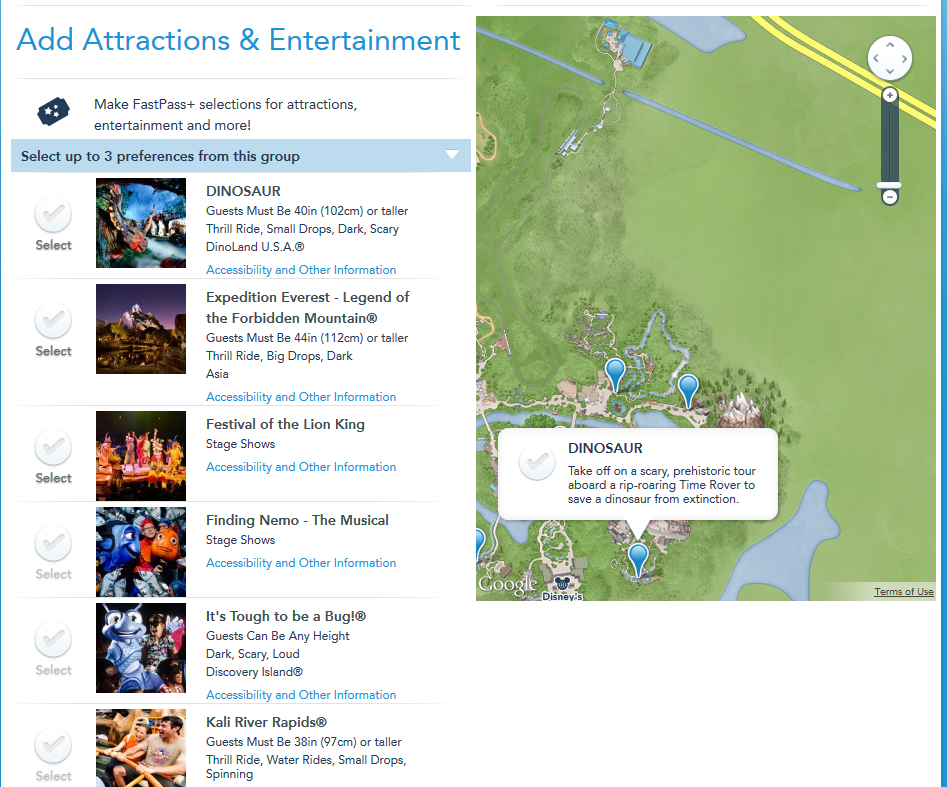 For AK, I chose the Safaris, Everest, and KRR. At this point, I finally noticed a little option up on the top right of the screen to "Prioritize your FastPass+ Selections". This let me put the selections in the order that were most important to least important. Presumably, this is how the software chooses which attraction to replace if they're not all available, and which of the four sets of times is a "Best Match". (Though how it chooses what's a best match when all your selections are available, I still don't know)


I rearranged the list so that Everest is the most important, and KRR the least important. It then gave me the four sets of times, as with the other parks

Having now chosen attractions in all four parks, I went to "Magic Bands and Cards" on the My Disney Experience menu. I saw that I did indeed now have a Magic Band associated with my account. I was told to confirm my shipping address first:


It already had my address in there, all I had to do was confirm it. Once I did, I was given the option to edit my address, and to customize the Magic Band

Clicking the Customize button takes me to a screen in which I can choose one of 7 colors for the band (Pink, Green, Red, Orange, Blue, Gray, or Yellow), as well as enter the name I want printed on the inside of it

I chose a blue band, and to keep just my first name as being printed on it. I was then given a confirmation that said it'd be shipping soon either to my address, or to my resort. At 10 days away, I'm curious as to which it will be sent to. I'm hoping it will be sent to my home, but time will tell.


One interesting note about this last screen shot. It says that my MagicBand will serve as my Magical Express tickets and my hotel room key. It does *not* say that it will be valid for park entry. That seems to imply to me that I cannot simply get rid of my annual pass card when I get the band. The annual pass is still separate, apparently? I don't know if in the future I'll be able to use the band for entry, but I will certainly try.
And that's it. That's my experience choosing a Magic Band and FastPass+ attractions. I hope you found this helpful. Feel free to ask any questions in the comments, and I'll answer them if I can.
Addendum: Okay, I lied. That wasn't it. I realized after seeing some comments that there are still three unanswered questions. 1) What about the mobile app? 2) How many FP+'s can I get total? 3) What are "FastPicks"? A quick addendum to hopefully answer all three of these.
First, the mobile app. It works basically exactly the same way as the website. When you go into the app and select My Plans, you see the current day. You select the day either via the arrows or the little calendar icon, and then click "Make Plans". This gives you a screen that lets you make dining reservations, link an existing reservation, add extras – and Select FastPass+ Experiences.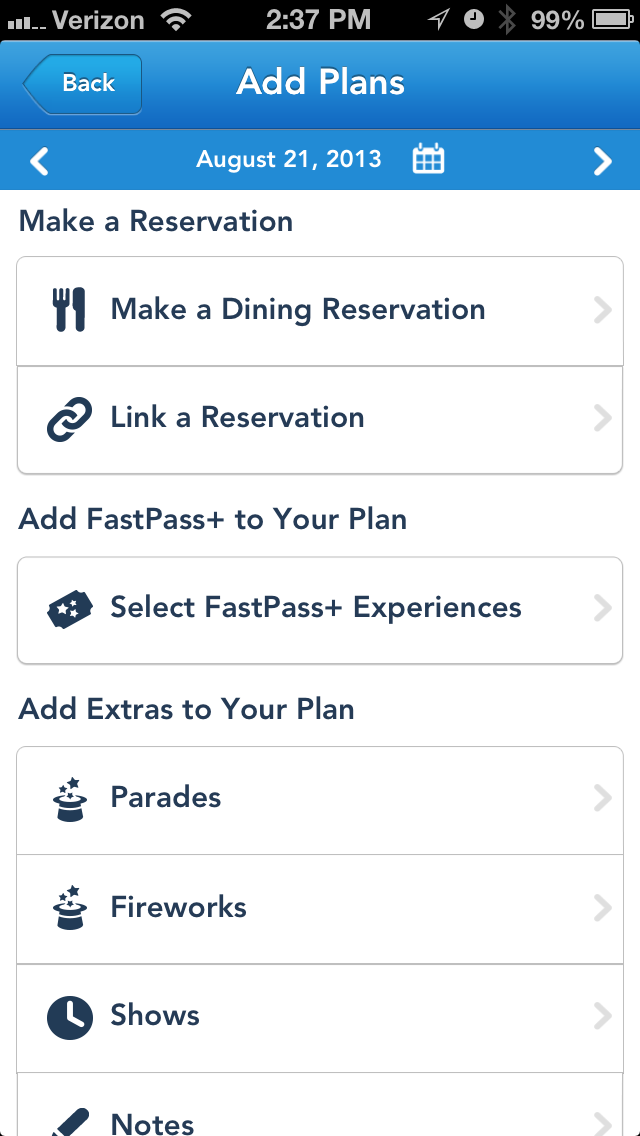 Clicking this option takes you to a fairly pointless screen asking if you want to make the selections (isn't that what I just said I wanted to do?) or learn more about FastPass+ itself.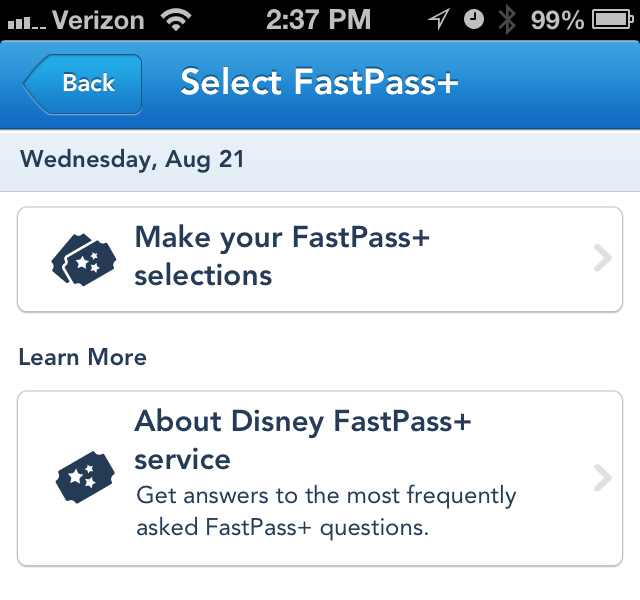 Now we get into the same setup we had before. We choose which family members you want to make this FP+ reservation for. You'll note in the following screen shot that there is a note that says "FastPass+ Limit Reached". In addition to the four days I had chosen above, I chose three more days via the app. On trying to choose the 8th day, this note appeared. So that means that my limit is either 7 days, or 21 regular FastPasses, or 23 regular + "bonus" FastPasses. I don't know which of those is the limiting factor, or if any of them would be on their own.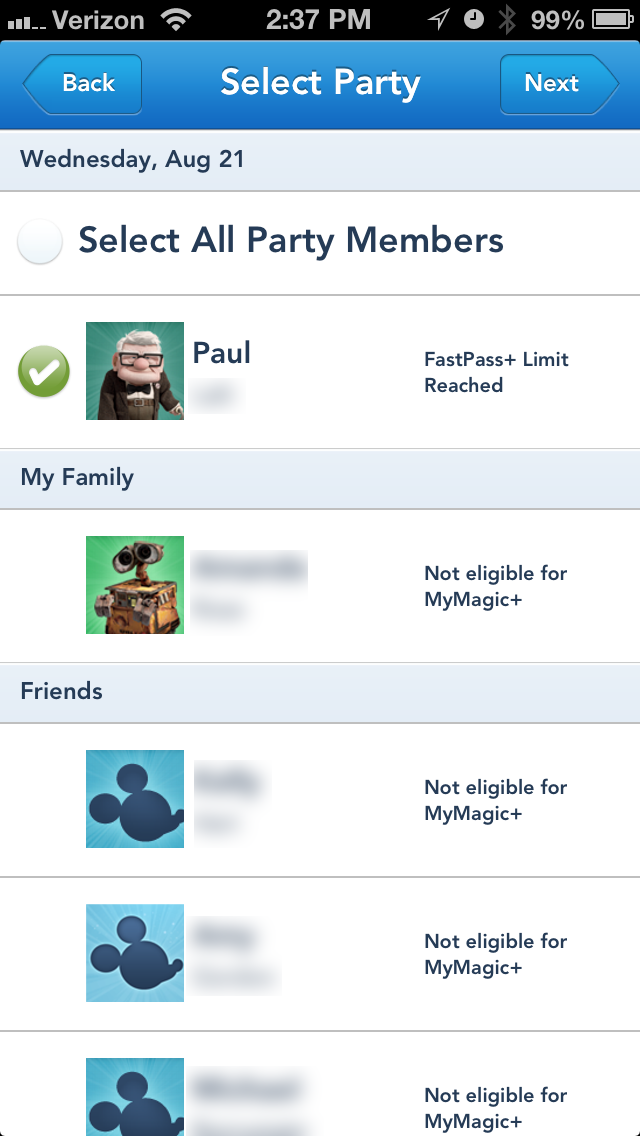 Now we choose which park we want to make the FP+ reservation at, much like using the website

I chose the Studios. Now at this point, I'd been steadfastly ignoring the "FastPicks" option I'd seen both on the app and the website. When I was given the list of attractions available at DHS this time, rather than choosing any of them myself, I clicked the FastPicks button on the bottom left.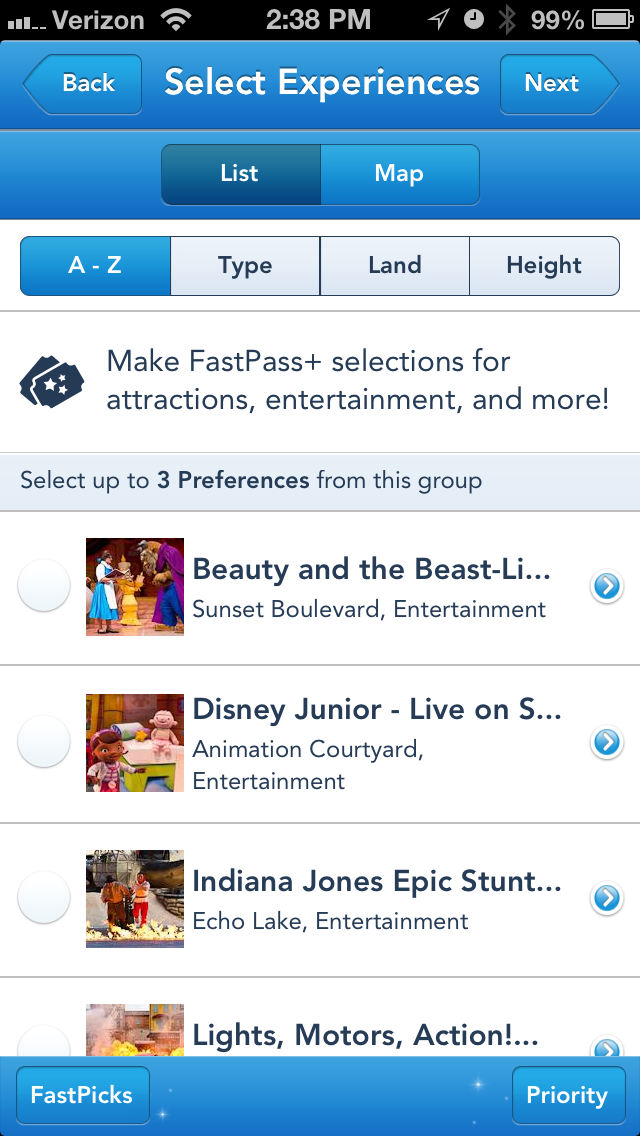 This brought up a pop-up warning box telling me that choosing FastPicks would cancel whatever FP+'s I'd already selected on that screen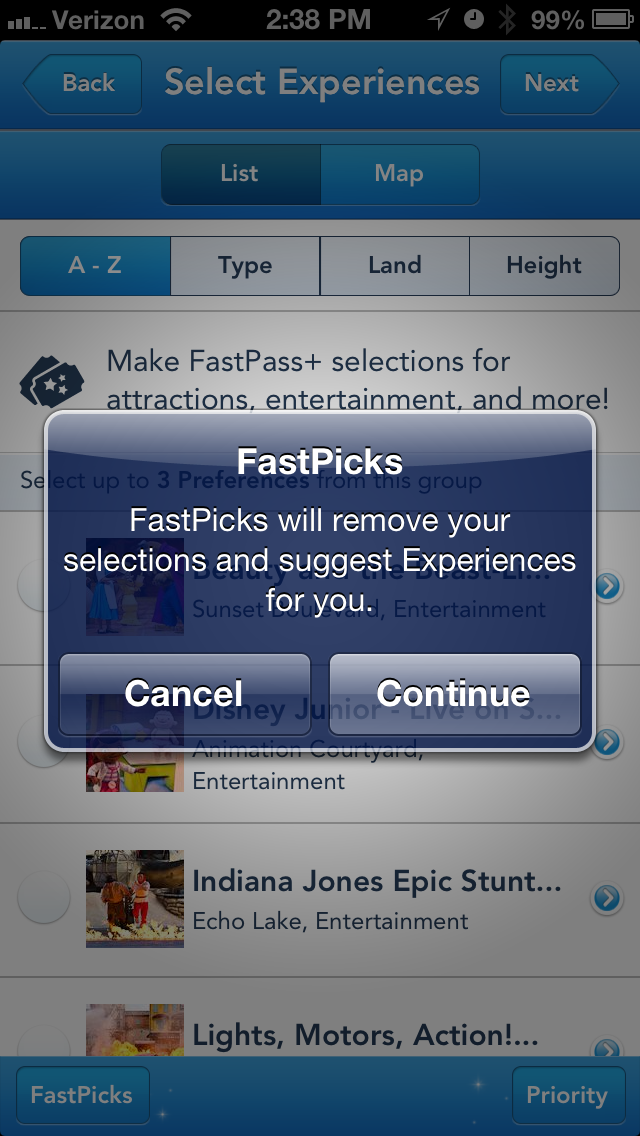 When I continued, I was again given 4 options for time sets. Each set had the same three attractions, specifically ToT, TSMM, and Star Tours. I picked one basically at random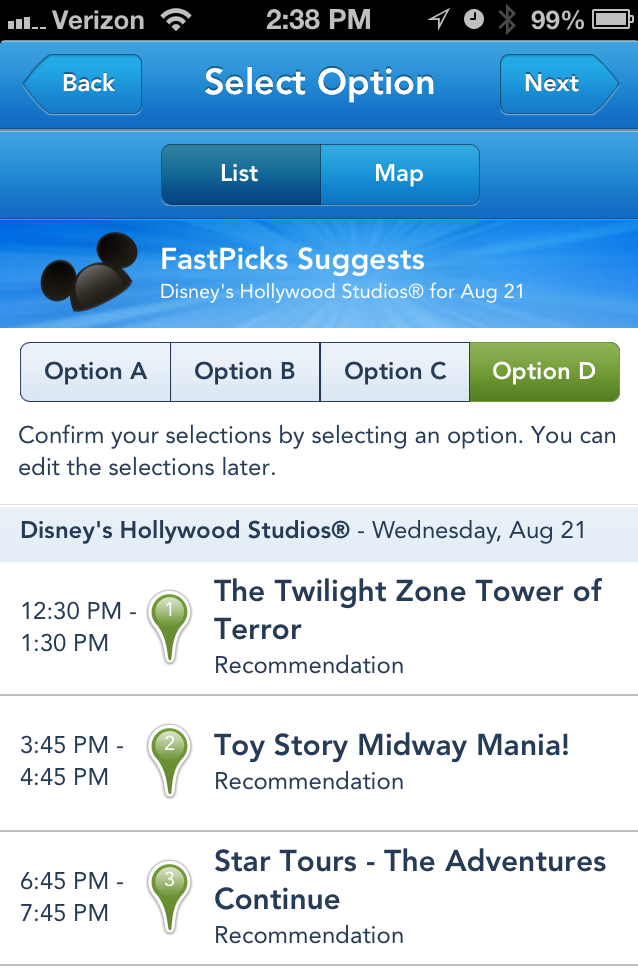 When I went to hit Next this time, however, because I was out of FP+ reservations (again, either 7 days or 21 FP+'s), I got an error message saying "Some party members are out of Tickets. Please choose how to proceed.". The only two ways how to proceed are to Cancel, or to "Trade a Day".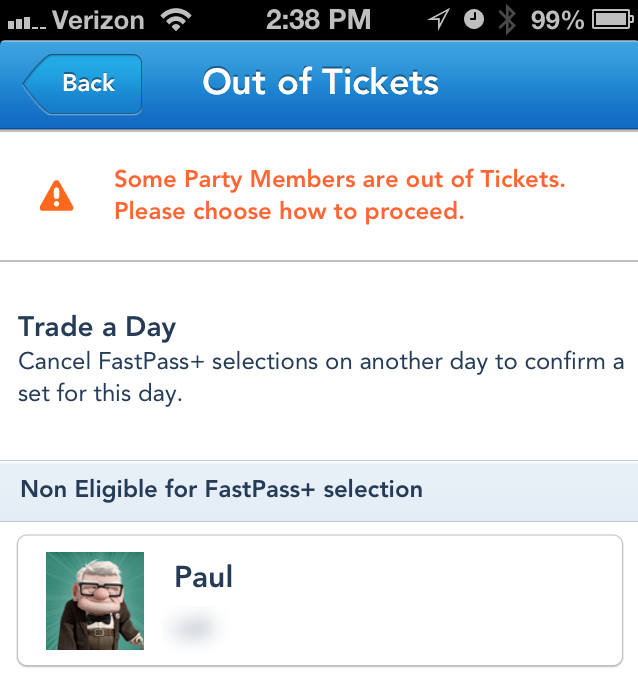 When I clicked Trade a Day, I was shown another day that I had FP+ reserved, and the ability to scroll through them all using the same arrows or calendar icon that I'd seen before. I chose one of the days, and clicked the Next button. As soon as I did that, I got the confirmation that my new FP+'s for this day had been booked.
So it seems as though the mobile app has basically the same functionality as the website. FastPicks give you three attractions completely at random. Indeed, if you choose FastPicks before choosing a park, it even gives you the option of choosing a park at random and a set of attractions within it also at random. And my limit for FP+ reservations is either 7 days or 21 FP+'s. I don't know if that's because I'm an annual passholder. I don't know if that would also be true for someone who has a hotel reservation that's, say, 10 days long. There is definitely more info to be discovered, but I think this is a pretty good start.
---
Using MB & FP+ in the parks
(August 11, 2013)
My reservation at Pop Century was this weekend, and I was able to use the MagicBand and FastPass+ with relatively few issues. The weekend began with my heading to Pop Saturday morning, around 10:30am. I had done online checkin earlier in the week, so I went to that queue, which was indeed much shorter than the regular CheckIn line. When I got up to second or third in line, a CM with a tablet came up to me and got my name, then confirmed all of my reservation details, including the card I had on file and whether or not I remember the PIN I selected during online checkin. He then went over to the desk (note, I'm still standing in line at this time, 2 or 3 people back), and returned with my checkin documents and the box containing my MagicBand. I asked him if this MagicBand was already linked to my Annual Pass, and he told me that so long as I had the AP linked in my profile on My Disney Experience, it would be.
I went over to an unused table in the Pop checkin area, and opened the box to see my MagicBand. You've probably already seen pictures of these all over the net, but here's mine:
Also in the Pop checkin area was a MyMagic+ "Service Center". It was two tables staffed with CMs there to help guests understand their MagicBands, link tickets, work out issues, etc. How popular this desk is, in my opinion, is directly telling how poorly Disney has ensured that this is a seamless, well-understood process:
I got on the bus to Magic Kingdom and when I arrived, attempted to use my MagicBand to enter the park. It did not work. The CM said that my band was showing as "inactive". The CM told me I could go to Guest Relations to have them link my Band to my AP (note that my AP and Band are both on my account on MyDisneyExperience, so that wasn't the issue). When I arrived at Guest Relations, I was directed to a CM in the corner by the MyMagic+ terminal. He scanned my band several times, and had puzzled looks on his face as he stared at his tablet. Eventually he brought my friend and me over to the desk and asked us to wait there while he went into the back. It was close to 20 minutes before he returned. When he did, he said that everything was all set now, and that there had been a problem with the initialization of the Band before it was packaged and sent to Pop to wait for me.
As one almost expects from Disney now, he then proceeded to offer us a Guest Recovery incentive to apologize for the wait we had for him in the back. After confirming I'd already set my FP+ reservations, he asked if I'd be interested in reserved viewing for Wishes. I accepted, but then pointed out that my friend was not eligible for FP+, so could he get it for both of us? He said he could, but had to make a phone call to a coordinator to do it manually. He told us to just report there with my last name and we'd be all set. He specifically said that if we had both been FP+ eligible, or if it had just been me, he had the power to simply add that extra FP+ entry to my reservations, despite already having 4 FP+'s scheduled. I find this interesting, as it's telling as to what other uses Disney will be making with this system.
Earlier in the week, I had seen online a website where those who are part of the FP+ test are able to make Lunch reservations for Be Our Guest. I did not receive any email notification of this, nor did it show up anywhere in My Disney Experience, so I didn't know if it was going to work or not. It did accept my Pop Century reservation number, however, and allowed me to make the FP+ for BoG. I apologize that I did not have the foresight to take screen shots of this process, but to describe it briefly: First I was asked to choose a day. Unlike the FP+ reservations I described above, *only* the two days of my Pop Century reservation were available to me. I chose Saturday. Then I had two options – either get Expedited seating, or actually choose my meal in advance and go "Direct to Table". I chose the latter. It then gave me the full menu, much like it does on the self-serve kiosks at BoG itself. Knowing that my friend would be joining me, I chose meals for both of us – two entrees, two drinks, two desserts, despite that only I was eligible for FP+. I reasoned that so long as I ordered everything, it shouldn't really matter, as there are no tables at BoG that are just for one person. I was then given a list of 3 or 4 reservation times, each one 15 minutes long. I chose one and confirmed everything. Still not confident that this would work out, I printed out my confirmation and took it with me to the Magic Kingdom on Saturday.
At the scheduled time, my friend and I went over to Be Our Guest and checked in at the podium to the left of the line (the same place where one checks in for the dinner ADRs). They confirmed everything, including my party size and meals ordered. I pointed out that my friend was joining me, though she wasn't a FP+ tester, they said no problem, as long as I'd already placed the order for both of us. The CM directed me to walk down the left side of the bridge and enter the restaurant, where another CM would assist us further. We did so, and the CM there had her tablet, confirmed who we were, then took us directly to one of the CM-staffed registers at the front of the line. We effectively "cut" in front of everyone, which I admit felt a bit weird. The CM at the register confirmed my order, and asked if we wanted to make any changes. We did not, so all we had to do was pay. I attempted to use the MagicBand to pay, but the sensor did not read it after a few tries, so I used my room key card instead. She then gave us the RFID rose, and we found a table. From that point on, it was exactly like any other normal order at Be Our Guest. Our food arrived shortly after we sat down (and it was very good, fwiw).
Later in the day, I believe I figured out why the MagicBand didn't work to pay at BoG. When I bought a water from Westward Ho, the CM told me that the Mickey on the band has to come in direct contact with the Mickey on the touch-to-pay reader. It will not work if the band is angled even slightly so that a different portion of the band is making contact.
I had made four FP+ reservations, for BTMRR at 3:05pm, Splash at 4:05pm, Space at 5:05pm, and Peter Pan at 10pm. At about 3:30, we went over to Big Thunder, and I used my first FP+. Now knowing about the Mickey-to-Mickey requirement, I tapped my MagicBand to the FP+ entry pole. It immediately turned green, the CM welcomed me by name, and I entered the FastPass queue. This was the part of MyMagic+ I actually expected to work least well, and it turned out to be the one part that gave me absolutely no problems whatsoever.
Now that I had used my first FP+, I experimented with changing the rest of my reservations, to see what was allowed. I first tried to change the time of my Splash Mountain reservation, and was given three alternate times I could select:
I cancelled out of that, and instead tried to change the actual attraction. This worked too, and allowed me to choose from a list of attractions available at the time of the current Splash reservation, 4:05pm. I chose Haunted Mansion: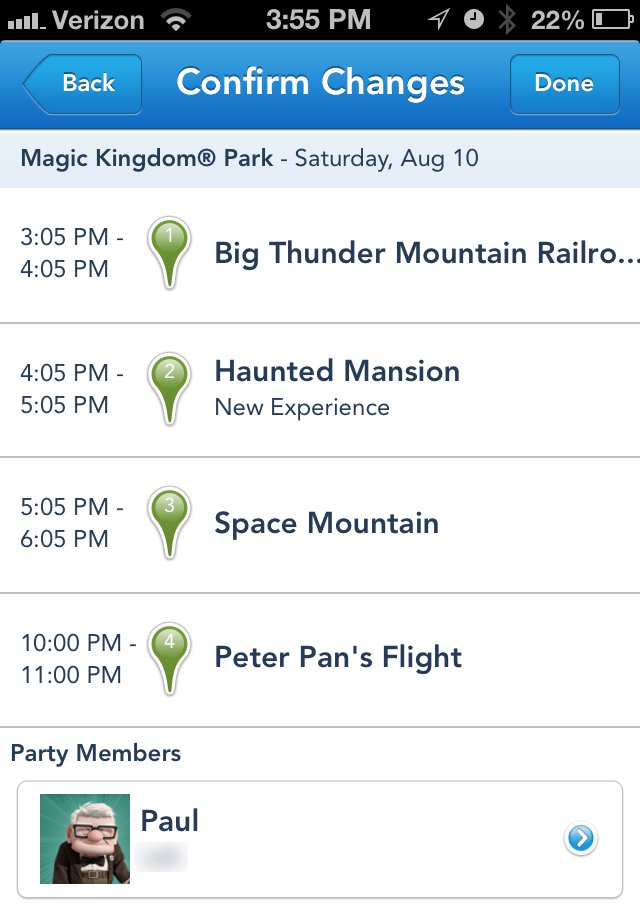 If you put two and two together, you realize there's a rather annoying issue here. If you want to change a reservation of Splash Mountain at 4:05pm, your only options are to change to either A) same attraction, different time, or B) different attraction, same time. If I had wanted to change to, for example, Buzz Lightyear at 8:00pm, I would have to first change the attraction to Buzz, keeping 4:05pm, and then done another change of time, to get it to 8:00pm. (Or vice versa, change Splash to 8pm first, then change attraction to Buzz). The problem is that if your intermediary step isn't available – either the new attraction isn't available at the current time, or the current attraction isn't available at the new time – you won't be able to do this. You'll have to go very round-about, finding either a new attraction or new time that is available, change one or the other to that, then try to see if the new intermediary you need is available. This sounds highly obnoxious to me, and I hope Disney figures out a way to fix it.
Another thing you might notice from those screen shots above is that it wasn't yet 4pm, but my phone was down to 22%. Now, maybe it's a given that I use my phone in the parks more often than a typical vacationing family, but I take this to be a problem nonetheless. If your phone dies, your only recourse, apparently, is to go back to Town Hall and use the MyMagic+ terminal to make any changes, or even to view your current selections. Yes, there are now two different charging stations in the MK, but honestly who A) brings their phone charger with them, and B) wants to sit there and wait for their phone to charge, rather than actually, you know, doing stuff in the Disney parks?
For the heck of it, I wanted to see what'd happen if I tried selecting entirely new FP+ reservations after I'd used my BTMRR FP+. I went through the process on the phone, but when I got to the step to select which member of my party I wanted to change everything for, I found that option disabled, saying that I'd already redeemed FP+'s today:
Similarly, and completely expectedly, I got the same message when I tried to change my BTMRR FP+ on its own, after having used it:
Prompted by chatters on the Lines app, on the next day, I experimented to see what would happen if I allowed my first FP+ of the day to expire unused. I made a FP+ selection on the fly, using FastPicks, and set the earliest one to 10:25am (Haunted Mansion, for whatever that's worth). At 11:40am, after my HM FP+ had expired, I found that I was able to not only choose a new time for HM, but I could in fact select an entirely new set of FP+, including at any of the other three parks. So it is only using a FP+ that locks you into a park, not simply making a reservation and not using it.
Around 7pm, after using the BTMRR, Splash, and Space FP+'s, my friend and I basically hit the wall and decided to call it a night. We went back to Pop Century and got some dinner (no problems with tap-to-pay there, fwiw), and then up to the hotel room. I recorded this the next day, when it was light out, just to show the usage of the MagicBands to open the hotel room door:
.
Today, Sunday, I went back to MK and found that my MagicBand does indeed now work for park entry. Apparently the Guest Relations CM yesterday was successful at addressing the faulty initialization. I also confirmed that not only did I have those FP+ reservations, but both my Annual Pass and my Key to the World card enabled me to get regular FastPasses as well.
I also tried making another BoG reservation, for the heck of it, using the same site linked to above. It allowed me to do so, and I chose my meal like before. When I got to the podium, however, they told me they showed my reservation, but not that I had pre-ordered. So instead I was directed to the end of the 'inside' line at BoG. In that respect, it was actually more like a normal FastPass experience, in that I skipped a large portion of the 'standby' line and instead waited only 5 or so minutes to place my order. This time, my MagicBand did work to pay for the meal, but the CM asked me if I wanted to use "the card on file", and when I said yes, did *not* require me to enter my PIN on the pad. That's worrisome at the least. And for whatever reason, this time, my MagicBand took the place of the normal RFID Rose, and the servers were able to locate me just by where my MagicBand and I were in the restaurant.
I still have some unanswered questions about FastPass+/MyMagic+/MagicBand. Among those questions:
Are my FP+ reservations for the coming days really valid, despite having already checked out of Pop Century?
Yes! I successfully redeemed a FP+ at DHS a couple days after I had checked out. The CM told me this was an unusual situation, and that I should consider it a glitch and a bonus, however (in other words, don't come complaining to us if it doesn't work at some point).
Is my MB still linked to my AP?
No. When I tried to use it at DHS, it read as invalid, and the CM was not able to relink it.
Will I still be able to tap-to-pay after checking out of Pop? If so, does that mean my Pop folio is being kept open indefinitely? Or do I (can I?) select a new credit card to link to it directly, rather than having it charge to my Pop account?
No. When I attempted to use my MB to pay for dinner at Sunshine Seasons on 2013-08-27, the RFID reader did turn green and the console asked me to enter my pin. However, the CM received an error on his terminal, instructing him to redirect me to Guest Relations. This is exactly as it should be – I definitely should not be able to tap-to-pay, as the band was linked to my Pop Century portfolio.
If I were to book another reservation, would I keep the same MagicBand or would they send me a new one?
apparently I'd get a new one. The cm at DHS told me that when MBs are fully deployed, all APholders will be sent new bands, so I won't be using the one from my Pop Century stay
What if I booked a reservation at a hotel not currently participating in the test? Would I be able to link my band to the new Key card?
Is it possible to change a single FP+ reservation entirely (new time, new attraction) without the intermediary step, if I use the MyMagic+ terminals in the parks?
It does not appear so. From what I saw, the in park terminals are basically just iPads loaded with the MDE app, thus they have the same restrictions as our own iPhones' apps do.
I don't know if I'll be able to obtain answers to all these questions (I have no intention of booking another hotel reservation, for example) but any further information I do get, I'll update this post with the answers.
---
Ride closures, FP+ without MB, MyMagic+ terminals, FP+ reservation windows
August 28, 2013
I went to Epcot last night and discovered a few more interesting tidbits about the usage of FastPass+. I had initially had a FP+ reservation for Test Track from 4:15-5:15pm. I tapped my MagicBand at the entrance to the FP+ queue at about 4:50pm. It turned green, and I was admitted. About 90 seconds later, however, we heard the announcement that TT had gone down, and that CMs would be evacuating those currently on the ride. The CM at the entrance to the queue told us that our FPs would be valid later in the day. I asked him specifically if the FP+ would also be honored later, and he said yes.
About 10 minutes later, while I was eating dinner in the Land pavilion, I got this email on my phone: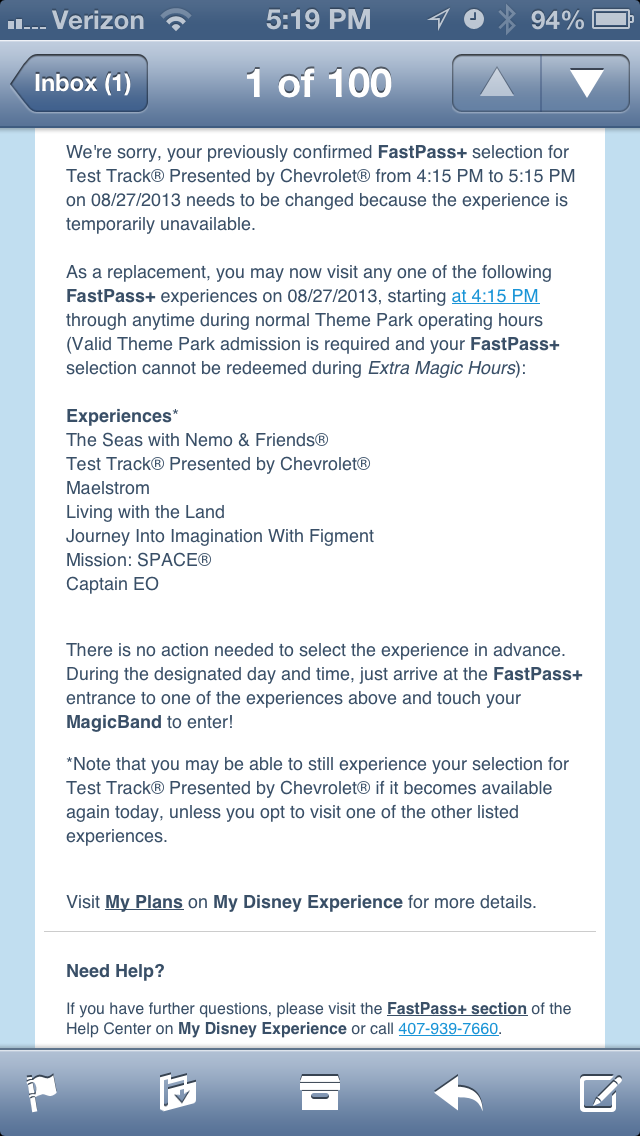 Personally, I think this is fantastic for three different reasons.
This email was automatically generated, and very quickly after TT went down (I have my phone set to check for new mail every 10 minutes, so it may very well have been instantaneous)
I am being allowed to choose any other FP+ attraction that has availability left, not just the original attraction that went down, and for any time in the rest of the day. This is significantly better than the procedure for current FP, where you can only redeem your ticket for the original attraction. I did notice that Soarin' and Character Spot were not on the list. I have a feeling that might because I already had FP+ reservations for those two attractions, and even in this recovery situation, they're not going to allow doubling-up of reservations. (You may also notice that SSE is not on the list – SSE was down for scheduled refurb that day)
The procedure for redeeming my alternate FP+ was completely painless. I didn't have to do anything on the app, at Guest Relations, or at any of the terminals. About an hour later, I simply went over to Mission: Space and tapped my MagicBand, and it worked perfectly.
I seriously think Disney deserves major kudos for this procedure.
A little later in the day, I noticed there was a MyMagic+ terminal in the breezeway between Character Spot and Innoventions West, with a Guest Relations CM staffing it.
I took the opportunity to ask her a couple questions. First I asked her how many of these terminals were in the park. She said there were currently this one here, three more at Pin Central in Future World, and one more at the International Gateway. She also said she expected more to pop up as MyMagic+ continues to roll out.
I next posed the question to her, what if a guest for whatever reason doesn't want to use their MagicBand (they lost it, forgot it at the hotel, find it uncomfortable, whatever), can they redeem their FP+ selections using their linked plastic card? She hesitated to answer, as she saw that my linked card was an Annual Pass, and that "shouldn't" work. But for a normal guest, yes, their linked KttW card should work fine. I then mentioned that I've been able to use FP+ ever since my room-only reservation at Pop a few weeks ago, even though I've been checked out for a few weeks as well. She seemed very surprised by that, and said she didn't know if it was a glitch or part of the actual roll-out. To satisfy her own curiosity, she asked me to tap my MB to the Terminal, just so she could see my FP+ reservations. I did so:
(By this time, I had changed my Character Spot FP+ to Maelstrom)
As we continued talking, she realized that there were still situations that she wasn't familiar with, such as mine, being an AP holder who gained access to FP+ by booking a reservation, but that reservation is long since over. So she said, for the heck of it, tap your AP to the terminal and see what happens? I did so – and the exact same list as above popped up. She seemed surprised by this as well. I told her I was going to go test it out at Soarin', to see what'd happen. When I got back to the Land, I took off the MB and put it in my pocket, and instead tapped my AP to the little Mickey-head RFID reader. It glowed green, the CM admitted me, and I saw on his terminal my name, just like every other time I've gone through. Very cool. This means I have no actual need for my Magic Band – I can continue to use just my Annual Pass to redeem future FP+s.
Finally, this morning, I went into the Disney site and tried to see what my limit for FP+ is. You may recall that originally, I was able to book no more than 7 days' worth of FP+s. Between then and now, I've redeemed FP+ on four separate days. So I was curious if I only had three left, or how that worked. Well, I went in and allowed it to make FastPicks for me for an entire timespan from today (August 28) through September 6. It successfully made FP+ for 8 separate days, claiming that it couldn't make recommendations on 9/1 or 9/4 due to limited availability. When I tried to make FP+ for 9/1 manually, it gave me an error that I didn't have valid admission media. I cancelled the FP+ on 8/28 and got the same error on the website, but when I went to the app, it gave me the "FastPass+ limit reached" error I had described in the original blog post, along with the option to trade a day. I cancelled 8/29, and then both the website and the app allowed me to make reservations for 9/1 without problems. Once I had, both the website and the app gave me the same "limit reached" error when I tried to book 9/4. So it seems to me as though my limit is 7 days between now and 60 days out, regardless of how many I've already redeemed in the past – but there may be a glitch when you have it make FastPicks for an entire span of days, and it may give you more than you're "supposed" to have.
As always, if you have any questions, please don't hesitate to let me know. I'll do my best to find the answer if I don't have it already.
---
Using FP+ after your window has elapsed
September 4, 2013
I had an additional question about FastPass+, that I was able to resolve today. Specifically, "What actually happens if you try to use a FP+ after the window has closed?" To test this out, I booked a set of FP+ today (2013-09-04) and intentionally didn't get to the attractions on time. The three I booked were for Star Tours at 3:35pm-4:35pm, Toy Story Mania 5:10pm-6:10pm, and Rock N Roller Coaster 6:50pm-7:50pm. Now, we'd been hearing ever since Disney did away with the old unofficial policy of "use a FP anytime in the day", that the new "rule" was a grace period of 5 minutes before the window opens, and 15 minutes after the window closes. In experience, however, this is heavily dependent upon the individual CM, and whether or not they want to allow that grace period or not.
After work, I went to DHS, and wandered a bit until it was past 4:35pm. At that point, I went to a MyMagic+ terminal near the tipboard at the intersection of Hollywood & Sunset. I tapped my MagicBand and confirmed that all three of my reservations were still listed, even though the first one had expired:
I then walked over to Star Tours and attempted to tap my MagicBand to the Mickey head. The Mickey glowed blue rather than green. The CM held up her hand to stop me. I was completely straight with her: "I know I'm late, I'm just wondering what it tells you on your terminal, and what the policy is?" She told me that all it told her was "you're 18 minutes late". I again asked "Okay, so what's the policy? Just tell the guest 'out of luck', or what?" She asked me if it was just me redeeming the FP+ or not. I said it was, and she handed me a (very obviously previously used) Rider Switch ticket, and told me to just give it to the CM inside the queue.
So it seems like the "lateness" is indeed technologically enforced, but CMs are empowered to ignore the time window, on their own whim (or at least, this CM felt she was so empowered – for all I know, she was breaking the rules very badly). I would expect that to be very heavily dependent on the CM at the time, not to mention the size of your party and the current wait time of the attraction. When I got into the queue, for example, I found that it was a complete walk-on. Basically, don't plan on being able to be late for your FP+, but you may get lucky and a CM might help you out.
One interesting side effect of the CM's generosity is that the FP+ itself was never actually used, which means that MyDisneyExperience allowed me to reselect my entire FP+ set, or to just change that one FP+ that I hadn't used. Here you see that I could have reselected and chosen Tower of Terror, RnRC, and Star Tours, all for later that evening, even though we were well past when my ST FP+ had expired.
I hung out in the air conditioned ABC Commissary for roughly an hour, and then walked over to Toy Story. I waited until 3 minutes past my window's closure (6:13pm), according explicitly to the clock above the FP return queue. I tapped my MagicBand to the Mickey head, and this time it glowed green, just as if I was actually within my window. I proceeded through the queue and tapped it again at the end of the FP line, and was welcomed by name and admitted to the ride. So the grace period, from this test, is at least 3 minutes but less than 18 minutes.
As I was leaving DHS, I stopped by the FP+/MM+ information booth at Sid Cahuenga's, and talked to the CMs stationed there. They confirmed that the grace period is technologically enforced, and that it is 5 minutes before to 15 minutes after. They also told me that the attraction's CM won't even know if you're in the grace period or the actual window. If you're before the 5 minute grace period, it'll tell them "xx minutes too early". If you're within the grace period or the actual window, it just says something like "valid". And if you're after the 15 minute grace period, "xx minutes late". This means that unlike traditional FastPass, the grace period is not subject to the whims of the individual CM, but is technologically enforced. (Of course, admitting you *after* the grace period is still subject to those CM whims).
---
Attraction Tiers
November 26, 2013
In my original review, I mentioned that Disney had retained the ability to separate attractions into groups, but wasn't using it. Well now they are. As of this update, both Epcot and DHS are now "tiered", meaning that there are two different groups of attractions in each park. Guests are able to select one of the top tier, and two of the bottom tier attractions. In Epcot, Tier 1 is Soarin', IllumiNations reserved viewing, Test Track, Character Spot, and Maelstrom. In DHS, Tier 1 is Toy Story, Rock 'N Roller Coaster, Beauty and the Beast, and Fantasmic (guaranteed entry only, no special seating). The presumption is that MK and AK will also be tiered eventually. If you book your MK or AK attractions before tiering begins, you will be able to change individual experiences or attractions without being subject to the tiering. But if you try to cancel and rebook, you will be limited by the tiers.